MURRAYVILLE - The North Hall High School boy's basketball team has had an amazing year.
But Friday night at 8:30 they will face their biggest challenge yet: playing against the undefeated and number one ranked Grangers of La Grange in the state semi-finals. But North Hall will have some help.
You see, North Hall High has always been known as a school that travels well, and Macon will be no exception.
In fact, the Trojan student section held one final practice session before turning their thoughts to body paint and day-glow wigs.
Senior Kyle Oliver has stepped forward as unofficial leader of the student cheering section. Oliver says, "We have a spirit bus going down that holds 70 people, and then we have a bunch of people driving down. We're trying to have a 100, maybe some more."
Oliver added, "We've been getting some new chants in. We're ready."
This may be North Hall's first experience in the Final Four, but they won't have to do it alone. They'll have about 100 good friends with them.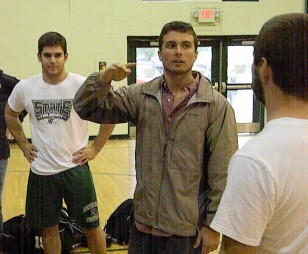 http://accesswdun.com/article/2010/3/227722