Gainesville Rotary Club honored two longtime community volunteers as its Man and Woman of the year for 2017 at a banquet Monday night.
Nancy Norton was named 2017 Woman of the Year and Doug Carter was honored as the 2017 Man of the Year.
According to information from the Rotary Club, Norton has been involved with numerous community organizations such as the 1996 Olympic Games, the Northeast Georgia Medical Center Auxiliary, North Georgia Community Foundation, Quinlan Arts Center, Girl Scouts, Lakeview Academy, Brenau University, Challenged Child & Friends (now Sisu), Junior Achievement and Gainesville First United Methodist Church's After School Program for Baker & Glover Mobile Home Park.
"This year's recipient exemplifies the object of Rotary – Service Above Self. She encourages and leads others to participate in community service projects. She has high ethical standards in both her business and personal life. She has used her occupation as an avenue to serve this community," said Lee Highsmith, who presented the award to Norton.
Longtime Rotarian Abit Massey described Norton as a worthy recipient of the honor.
"Her happy smile, positive attitude and active participation improve the operation and the success of everything she touches," Massey said.
Carter, a well-known North Georgia realtor, received his recognition from a peer in the real estate business - Frank Norton, Jr.
"I know of no individual in this community that has done more for this community without recognition or accolade. A fine gentleman, a gentle soul who has had a powerful lasting effect on his hometown," Norton said.
Carter has served as chairman of both the Georgia Chamber of Commerce and Gainesville/Hall County Chamber of Commerce; chairman, Gainesville Planning and Appeals Board; vice-chair of the Technical College System of Georgia; Chairman, Quinlan Art Center, and is a past president of Leadership Georgia, and Northeast Georgia Medical Center.
Mary Lynn Coyle, Chair of the Northeast Georgia Health System Board said of Carter, "I have had the privilege of witnessing his remarkable ability to build consensus and motivate offerings. He is a man of remarkable vision and character who senses within himself a proud sense of purpose. That awareness is rooted in his faith. His integrity means he is in high demand and sought after by many organizations throughout the state, but he remains a humble, gentle man who is able to lead our community through ubiquity and tackle some of our communities most serious problems but not take himself too seriously in the process."
Since 1939, Gainesville Rotary Club has recognized a Man-of-the-Year honoree, and since 1944, Woman-of-the-Year. Rotary confers these awards for achievements, leadership, and serve to the Gainesville-Hall County community during the past year as well as over the course of the individual's lifetime.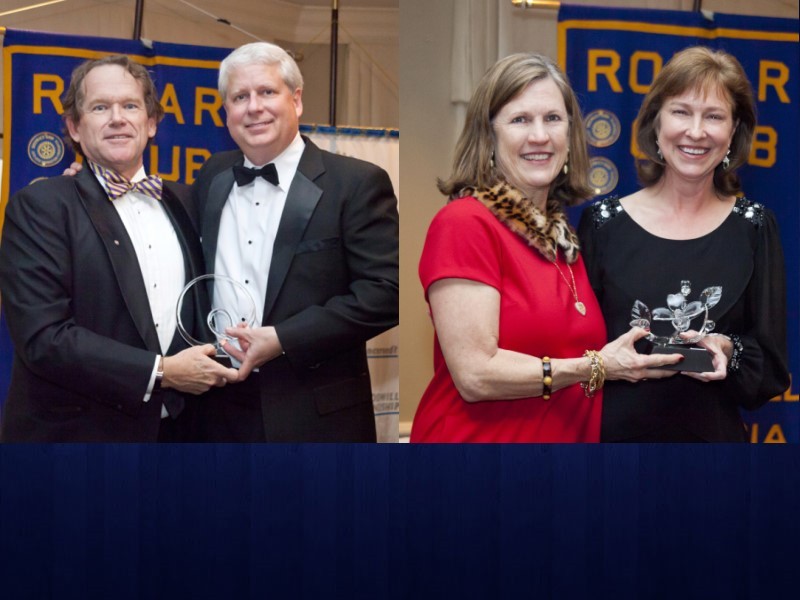 http://accesswdun.com/article/2018/2/636591/carter-norton-honored-as-rotary-man-and-woman-of-the-year