GAINESVILLE – Hall County Schools will soon have the funds they need to begin some major capital improvement projects.
The initial offering of school district bonds went better than expected Monday morning.
"We've been in a steep period of rising interest rates but we had a great bond sale today," said Lyman Wray of bond underwriter Stephens, Inc.
"We had much more interest than we had bonds today," Wray said enthusiastically. "You (Hall County Schools) have great credit and it's a growing area…they recognize that y'all are doing the right thing and investors like that."
Wray was updating the Hall County Board of Education at their work session Monday evening, adding that the interest rate offered by the schools on the bonds was lowered due to the high demand by investors at the morning offering.
"Over the five years it will be 1.77-percent," Wray explained.
School Superintendent Will Schofield said he was very pleased with the lower bond interest rate that the district will be paying investors. "I actually thought we'd be 15-20 basis points higher so what that translates into is less interest cost for the district."
Schofield said the lower rate would save the district about $100,000 worth of interest payments in the first year alone. Over the five year life of the bond Schofield said savings would be "several hundred thousands of dollars so we're pleasantly surprised."
"Total proceeds from the bonds will be $24,994,689.80," said Jonathan Boykin, Finance Officer for the school district.
Schofield told those in the audience, "This is preselling on our ESPLOST revenues over the next five years as we move into high school/middle school district number seven."
"This is going to pay for an awful lot of the renovations and the additions that go on for Cherokee Bluff High School, Flowery Branch High School, Davis Middle School, South Hall Middle School and Johnson High School," Schofield said.
"We are selling $25-million of short term bonds that will be paid back with ESPLOST proceeds," Schofield explained to the audience.
The funds from the sale of the bonds, according to Schofield, should be in the hands of the district in ten days.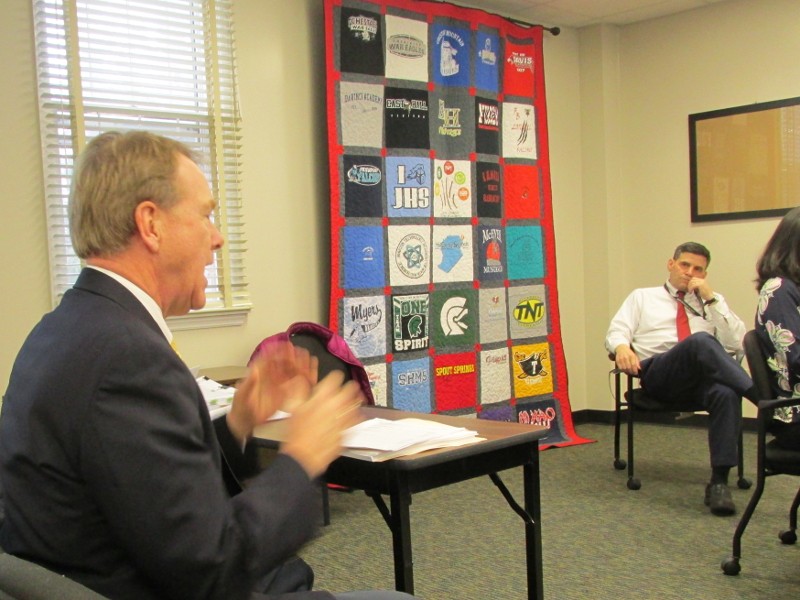 http://accesswdun.com/article/2018/2/636333/school-bond-sale-goes-better-than-expected-for-hall-county