Danny Sanders led wire-to-wire in Saturday night's Crate Late Model feature to score the win at Georgia's Hartwell Speedway.
But it wasn't at all easy for the Nicholson, Georgia speedster. After winning the pole for the feature, Sanders jumped to the lead on the opening lap, and opened up a lead over second place runner Adam Smith.
But as the field took the five laps to go signal from the flagstand, Smith went on the charge, and began closing the gap on Sanders. With half a lap left to go, Smith barreled off into turn three on the low side of the leader, able to briefly get a fender alongside.
But Sanders had the momentum on the high side, and held off Smith coming to the finish line to score the victoyr.
Smith had to settle for second place, followed by Drew Cole in third, Adam Partain in fourth and Eric Veal in fifth.
In other action, Shane Yarbrough held off Alex Yarbrough to take the Hobby feature win, with Lance Chitwood in third, Joe Cash in fourth and Cody Smith in fifth.
Sterling Helm scored the victory in the Modified Street feature. Michael McTier held off Daniel Doster for second, with Russell Shore in fourth and Kyle Gordon in fifth.
Jack Hill edged out Jeremy Jones to win the Stock V8 feature, with Bradlee Jones, Robert Crowe and Chris Brown rounding out the top five.
Chris Little took the victory in the Stock Four Cylinder feature. Ryan Boles finished second, followed by Pete Whitley in third, Parris Simmons in fourth and Terry Calhoun in fifth.
Hunter Anthony passed Ricky Holcombe just past halfway in the Up Front feature, and went on to score the win. Holcombe settled for second, with B.J. Gillespie in third, Seth Brown in fourth and Austin Elrod in fifth.
Hartwell Speedway returns to action on Saturday, September 16. For more information, visit Hartwell-Speedway.com.
Hartwell Speedway – Hartwell, GA
Race Results – September 9, 2017
Crate Late Model
1. #4 Danny Sanders
2. #14 Adam Smith
3. #121 Drew Cole
4. #87 Adam Partain
5. #3 Eric Veal
6. #05 Grant Jordan
7. #21 Will Harris
8. #28 Peter Peterpolous
Hobby
1. #141 Shane Yarbrough
2. #41 Alex Yarbrough
3. #87 Lance Chitwood
4. #23 Joe Cash
5. #10 Cody Smith
6. #121Ray Hamiliton
7. #114 Stephen Segars
8. #8 Jason Black
Modified Street
1. #98 Sterling Helm
2. #K2 Michael McTier
3. #104 Daniel Doster
4. #7 Russell Shore
5. #3 Kyle Gordon
6. #19 Johnny Pilgrim
7. #J19 Jennifer Everett
8. #93 Richard Jones
9. #12 Robby Stewart
10. #1 Keith Teasley
Stock V8
1. #54 Jack Hill
2. #18 Jeremy Jones
3. #101 Bradlee Jones
4. #34 Robert Crowe
5. #10 Chris Brown
6. #77 Joseph Teasley
7. #35 Paul Moore
8. #9 Dennis Brown
9. #22 Ray Foskey
10. #21 Dylan Golden
11. #12 Brandon Long
Stock Four Cylinder
1. #15 Chris Little
2. #2 Ryan Boles
3. #7x Pete Whitley
4. #41 Parris Simmons
5. #16 Terry Calhoun
Up Front
1. #A2 Hunter Anthony
2. #4 Ricky Holcombe
3. #22 B.J. Gillespie
4. #55 Seth Brown
5. #57 Austin Elrod
6. #2n Caleb Nicholson
7. #96 John Shaw
8. #44 Randy Shaw
9. #007 Robert Spencer
10. #35 Cody Henry
11. #27 North West
12. #09 Joey Kennedy
13. #07 Joel Cabe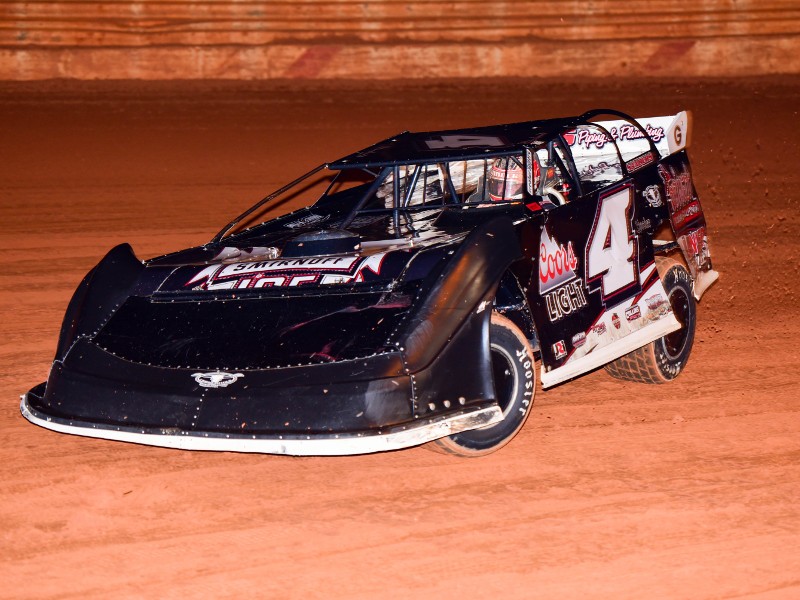 http://accesswdun.com/article/2017/9/582063/sanders-edges-smith-for-hartwell-crate-late-model-win