Not too many years ago, an astounding athlete burst on to the scene of northeast Georgia football and took his program on a thrill ride that eventually captivated an entire state.
He eventually delighted an entire football-watching nation with his exploits at the collegiate and, bar a gut-wrenching injury, the professional levels.
Three years ago, his heir-apparent emerged.
No, Clemson fans, I'm not writing another paean to Trevor Lawrence — though the Cartersville gun slinger is certainly the real thing.
This one is for northeast Georgia folk — mountain folk in particular. And for those of us who thrilled to the exploits of a young Deshaun Watson, Rabun County's Bailey Fisher is a hair-raising reminder that lightning can indeed strike a region twice.
What a treat for those of us lucky enough to witness it firsthand — and now the rest of the state can join in. (NOTE: Check out our Year of the Quarterback feature on Fisher from earlier in the season in our video player.)
Watson's athletic ability was unparalleled at the varsity level (and, as it turned out, in college and beyond) — as he showed by starring in multiple sports (some may forget he played on a state runner-up basketball team his junior campaign) — but what really set the former Gainesville standout apart was his dogged determination and commitment to excellence.
Watson lived in the film-room and demanded more of himself, learning his position and honing his craft in a way that few adolescents would even contemplate, let alone put into action. And the Red Elephants elevated his teammates along the way to the program's first ever GHSA championship in 2012.
There are tell-tale parallels in Tiger, where Fisher, another true dual-threat, spends his waking hours combing through footage of opponents and himself, engaging the encyclopedic knowledge and experience of his own position coach, former Flowery Branch and Georgia Southern star QB Jaybo Shaw (who was also headed for stardom in Rabun until his father, Lee Shaw, moved from Tiger, where he was an assistant, to intiate the Branch program).
And then there is that drive to be better. Lee Shaw, who coached great signal callers prior to Fisher — four first team All-State players, including Jaybo and his younger brother Connor (still in the NFL) — has been little short of awed.
"Since the day Bailey Fisher became our quarterback, he has changed this entire football team, high school, and community for the better," Lee Shaw said. "His dedication to become great and his will to win is truly remarkable. It goes far beyond his athletic ability. He has fallen in love with the process of becoming great not just when the lights are on. He always finds a away to get the job done when adversity hits. The word 'quit' is not in Bailey Fisher's vocabulary. He is one of the toughest kids I have ever had the pleasure to coach."
To elevate a previously solid program like Rabun County into a state power, Shaw — who had already built the Falcons into a perennial heavyweight — knew he needed a total buy-in from everything within and without his program. He also needed star players. Charlie Woerner, now an SEC champion with the Georgia Bulldogs, began that elevation as a standout safety, linebacker, receiver, tight end and wherever else required.
Fisher took that baton and is running with it — and now the ultimate gold medal is tantalizingly within reach.
The senior has already cemented his legend status in Rabun County — ask anyone "north of the Gorge," as goes the saying for residents who will cross the gaping Tallulah chasm en masse on Saturday to witness their heroes battle Hapeville Charter in their first-ever state title shot in Atlanta.
Much like Watson once did on the lush City Park turf, Fisher spent several minutes on Rabun's Frank Snyder gridiron taking pictures with and greeting wide-eyed youth following last week's semifinal defeat of Brooks County. He is now the player most Wildcat hopefuls dream to be. And watching his performance in the program's first-ever state semifinal made it obvious as to why.
The Brooks County defense grilled Fisher and his teammates throughout the first half. But when the Wildcats needed a play on offense, a score, Fisher — who's supposedly not big enough to be a top-level collegiate quarterback — twice gutted his way through and past would-be tacklers, bulling his way into the end zone to help spark a 23-12 comeback win that paved the way to Mercedes-Benz Stadium. Along the way he did his usual damage through the air, completing 15 of 20 passes for 234 yards and a score, including an equally jaw-dropping catch and run from junior receiver Austin Jones in which he broke six tackles en route to the end zone (coaches counted on film).
And now Fisher finally gets a chance to showcase those abilities on the state's biggest stage.
The senior may not get the chance to shine on the nation's biggest collegiate stage — though he will play at the next level for some lucky program such as West Georgia — and on Saturday the rest of the state may see why that is a shame, because Fisher is undoubtedly special.
Like Watson's, his stats are jaw-dropping. This season alone Fisher has rushed for 1,169 yards and 27 scores, while also completing 72 percent of his passes for 3,145 yards and 40 scores. He is amongst the state's top 10 all-time in career passing yards, and top five in career passing touchdowns — and he spent many a second half on the sideline due to lopsided scoreboards.
Perhaps the best part about all of this history: Fisher has never once claimed credit for it.
In every interview Fisher is quick to praise his defense, receivers, offensive line, coaches, fans — even the managers and waterboys get an occasional shout-out.
Ask those same people, however, and you'll likely hear the praise going in the exact opposite direction.
It takes a transcendent talent to make history. Watson reminded us of that a half decade ago, and Fisher is a re-affirmation of that fact. All great quarterbacks in northeast Georgia will be forever compared to Watson's other-worldly talents. They must now also measure up to Fisher's.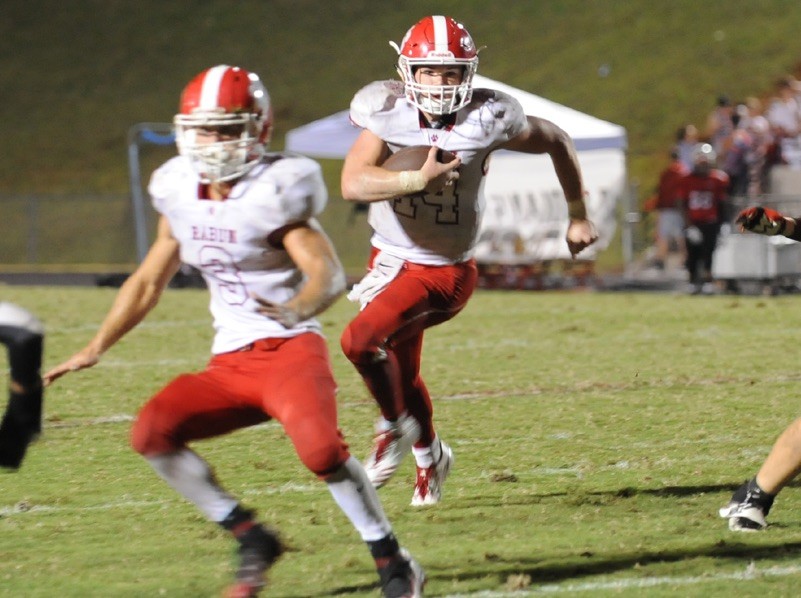 http://accesswdun.com/article/2017/12/613428/opinion-state-set-to-be-treated-to-mountain-footballs-best-kept-secret-on-saturday