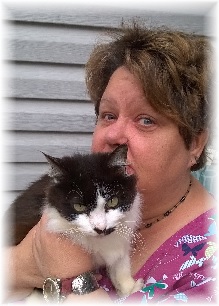 Phyllis Sue Steelreath, 54, of Gainesville Georgia passed away on Monday, November 6, 2017 at her residence.
Born on May 16, 1963 in Goldsboro, NC she was the daughter of the late Fridtjof and Jessie Graves Steelreath. In addition to her parents, She is preceded in death by her grandparents, Sune V. and Margaret Steelreath.
A beautiful sister with a heart of gold and a giving Soul, she is survived by her sister, Christina Steelreath of Winder; brother and sister in law, Stan and Paula Bolton of Columbus, OH; sister and brother in law, Sheryl and Robert McEntire of St. Johns, AZ; uncles and aunts, James and Dottie Steelreath, Hugo and Sharon Steelreath all of Mobile, AL; cousin, Richard Steelreath of Mobile, AL; other numerous cousins; many friends that loved her, Ronnie and Cheryl Kinney and family, Sophia and Beba Kontoxis, Billy and Angel England, Chris Webb and all the staff of AVITA Community Partners.
A memorial service will be held at 6:00 p.m. on Monday, November 13, 2017 in the Chapel of Memorial Park Funeral Home with the Pastor JacQuelyn Hart officiating. The family will receive friends at the funeral home on Monday, November 13, 2017 from 5:00 p.m. until the service hour.
Memorial Park Funeral Home, 2030 Memorial Park Road, Gainesville, GA 30504 is in charge of arrangements.
Send online condolences to www.memorialparkfuneralhomes.com