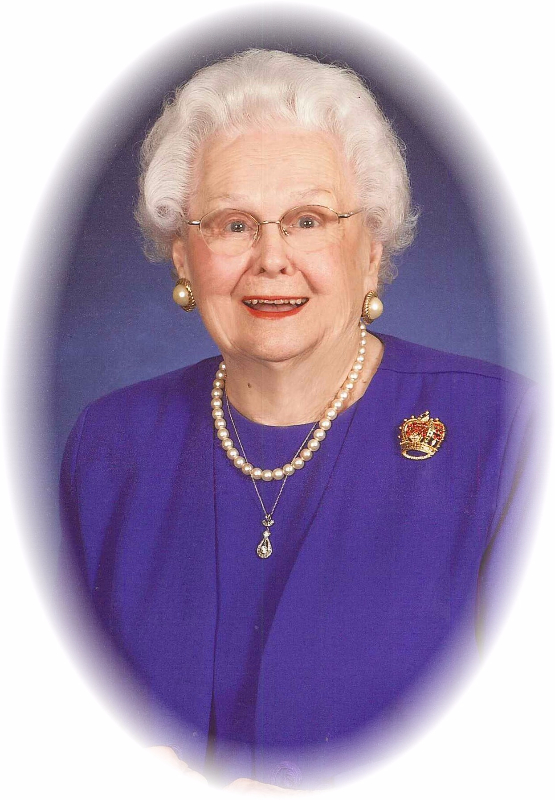 Mary Rice Cleveland passed away October 10, 2017 at the age of 103. Mary was the widow of Ralph W. Cleveland, a prominent Gainesville businessman and prominent pioneer of the Northeast Georgia poultry industry.
She was a native of Forsyth County, the daughter of John Major and Katie Mae Huff Rice. Born June 14, 1914, she was a direct descendant of five signers of the Mayflower Compact. She was a graduate of Fort Valley High School and Georgia State College for Women.
She taught first grade at River Bend School, was there at the time of the April 1936 tornado that devastated Gainesville, and served as a volunteer caring for victims. Mary married Ralph W. Cleveland on February 23, 1946 and at the time was a member of the faculty at Georgia Southwestern College in Americus, Ga.
Mary supported Ralph when he wanted to start a chicken feed mill – when others doubted that could ever succeed. Her support and encouragement were key factors in the success of Gainesville Milling Company which he began in 1949.
Ralph and Mary enjoyed sharing with many local charitable organizations, including Brenau University, of which he was a trustee, and (the former) Gainesville State College of which he was a member of the founding task force. Often this was done through the Ralph & Mary Cleveland Foundation which they founded.
She was a member of the First Baptist Church of Gainesville, past President of First Baptist's Women's Missionary Union, past Superintendent of Daily Vacation Bible School, past President of Fidelis-Agape Sunday School Class and its successor, the Joy Sunday School class, Den Mother of Cub Scouts of Troop 26, past President of Gainesville Junior High School PTA, a member of the Board of the Gainesville Boys Club, past President of Wednesday Study Club and a member of the Daughters of the American Revolution. She and Ralph were members of Chattahoochee Country Club, of which Ralph was a founding member.
In the mid-1960's, she was a member of a People-to-People Goodwill Ambassador trip to Russia, composed of women involved in education, part of a cultural exchange program started by President Eisenhower. She enjoyed other extensive travels with her husband Ralph and son John and frequent continued travels with Ralph.
Mary is survived by her son and daughter-in-law John Ralph Cleveland and Catherine Turner Cleveland, Grandson Michael Wesley Cleveland and granddaughter-in-law Courtney Clark Cleveland, great-grandchildren Coco Alexandra Cleveland and William Wesley Cleveland, all of Dallas, TX and Grandson Scott Ralph Cleveland and granddaughter-in-law Georgina Charles Cleveland of Los Angeles, CA, and by her sisters Mrs. Sue Harris of Athens, GA and Mrs. Kay Dreher of Mystic Conn. and a number of cousins, nieces and nephews.
She was preceded in death by her husband Ralph W. Cleveland, her sister Louise Rice Jones of Athens, GA and brother Major Barton Rice of Bogart, GA.
Mary is also survived by her best friend of 71 years, Frances Miller Haynes, former principal of Candler Street Elementary School who is also 103 years old. They were next door neighbors for decades.
In lieu of flowers, the family requests that donations be made to one of Mary's favorite organizations: The Northeast Georgia Boy Scout's Association, 148 Boy Scout Trail, Pendergrass, Georgia 30567; The Girl's and Boy's Club of Gainesville, 2152 Memorial Park Drive, Gainesville, Georgia 30504; or to Gainesville First Baptist Church, 751 Green Street SW, Gainesville, Georgia 30501.
Funeral services will be held at 3:00pm on Sunday, October 15, 2017 in the Chapel of the Gainesville First Baptist Church. Dr. Bill Coates will officiate. Interment will be held at Alta Vista Cemetery. The family will receive friends from 1:00pm-2:00pm on Sunday, October 15, 2017 at Memorial Park North Riverside Chapel. Another visitation will be held following the service at the fellowship hall of the church.
Online condolences can be made at www.memorialparkfuneralhomes.com. Memorial Park North Riverside Chapel is handling the arrangements. 989 Riverside Drive, Gainesville, Georgia 3050. 770-297-6200.