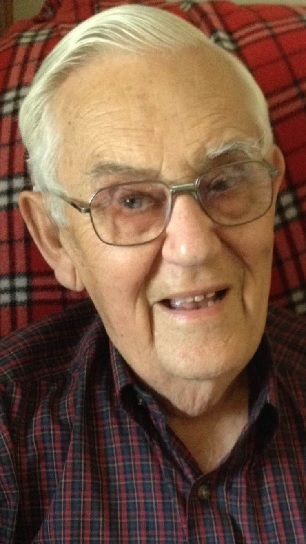 Elmer Robert Chastain, 91, of Flowery Branch passed away at home Monday surrounded by his family after a brief illness. Elmer was a member and deacon of Poplar Springs Baptist Church and was an active member of the Whosoeverwill Sunday School class until becoming homebound with his wife in recent years.
Born in 1925, Elmer grew up in the Bark Camp community before serving as a Military Policeman in the Philippines during World War II. Shortly after his return from deployment, he met Willene, his wife of 66 years, on a blind date at the spot where their iconic swing and a tree he planted still stand today. He retired from Delong Motors/Morris-Smith Buick in Gainesville after 33 years of service and went on to work at Gainesville College. Both he and Willene retired from Gainesville College in 1992.
Elmer enjoyed his pictures, traveling, gardening, and southern gospel music, but he was most proud of his two daughters, three granddaughters, four great-grandsons, two great-granddaughters, and the two Godly men he called sons, not sons-in-law.
Elmer was preceded in death by his mother, Era Albertson, and sister, Clara Gillespie.
Survivors include his wife, Willene Chastain, Flowery Branch; daughters and sons-in-law, Linda and Charles Scarborough, Gainesville; Lisa and Rodney Beck, Flowery Branch; granddaughters and grandsons-in-law, Todd and Jennifer Slade, Williamson; Lev and Melina Kallos, Braselton; Andy and Melissa Chapman, Gainesville; six great grandchildren; brother-in-law, Aaron Hulsey; sister-in-law, Nellene Wallis; special friend and neighbor Joe Kinard; and a host of nieces and nephews.
Elmer's family is eternally grateful for Hospice of Northeast Georgia and our wonderful at-home caregivers, Ashley, Kathy, Shirley, Susan, and Terasia.
Funeral services will be held at 2:00 p.m. Friday March 24, 2017 at the Poplar Springs Baptist Church. Rev. Harley Ingram, Rev. Todd Slade (Elmer's grandson-in-law) and Andy Chapman (Elmer's grandson-in-law) will officiate. Interment will follow in the Poplar Springs Baptist Church Cemetery with full military honors. The family will receive friends Thursday March 23, 2017 from 6-9 p.m. at Little & Davenport Funeral Home.
In lieu of flowers, please support Hospice of Northeast Georgia or Eagle Ranch - charities that support the community Elmer loved and lived in for over 60 years,
Those wishing to send online condolences to the family may do so at littledavenport.com
Little & Davenport Funeral Home and Crematory, 355 Dawsonville Highway, SW, Gainesville, Ga. 30501 is in charge of arrangements.