Posted
10:49PM on Thursday 21st August 2014
( 3 years ago )
Prep football kicks off tonight -- check out <b>Friday Game Night</b> for all the info
By
Morgan Lee
Sports Editor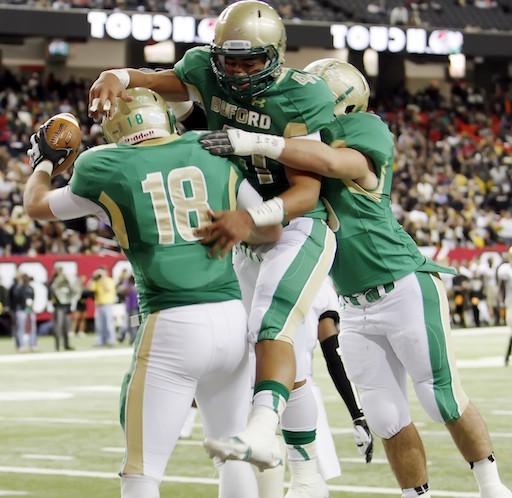 IT'S FRIDAY... GAME NIGHT
It may be called "week zero," but that's a bit of a misnomer -- there is plenty to talk about and watch in the opening week of the high school football season, which kicks off tonight around the state.<br /> <br /> That certainly includes in northeast Georgia, where a number of squads will get the 2014 campaign going both Friday and Saturday.<br /> <br /> Four contests highlight Friday's slate -- led by an all-northeast Georgia showdown between Jefferson and Rabun County.<br /> <br /> Meanwhile, three huge games mark Saturday, including the Kell Classic at McEachern High and a mouth-watering battle between defending state champions Buford and defending Florida state champs Trinity Christian at Buford's Tim Riden Stadium.<br /> <br /> To read about each of the contests -- including features about the Jefferson-Rabun showdown and the Buford-Trinity Christian face-off, visit our <b><a href="http://www.accessnorthga.com/fridaygamenight">Friday Game Night page</a></b>. The 2014 Friday Game Night section includes our season preview -- complete in-depth looks at 30 area teams -- plus video and all you need to know about the upcoming campaign. <br /> <br /> We will be posting all of our high school football content to Friday Game Night throughout the season. The page will also feature live scoreboards each Friday night. You can also follow score updates live by following us on Twitter @FridayGameNight.<br /> <br /> Also, be sure to check out our <i>It's Friday... Game Night</i> trailer in the video box to the right. We trekked all over northeast Georgia to get players from throughout the area involved and will run several different versions throughout the season...
© Copyright 2017 AccessWDUN.com
All rights reserved. This material may not be published, broadcast, rewritten, or redistributed without permission.