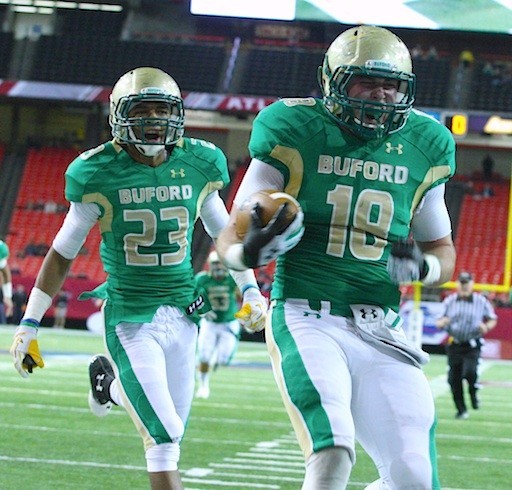 FRIDAY GAME NIGHT IS BACK!
Check out the most comprehensive high school football coverage in northeast Georgia on our
Friday Game Night page.
COME INSIDE OUR 2014 PREVIEW:
- Get the lowdown on 30 area teams
- Video: Area coaches talk about their own squads
- Region races: See where your favorite team lines up
- Read about 8 new head coaches
- Read about the new QB talent taking the reins
- Team schedules, Radio schedules and more...
It's Friday... Game Night!
BUFORD -- It's one of those intriguing matchups that almost didn't happen.<br /> <br /> When Class AAAA No. 1-ranked and defending Class AAA champ Buford takes on defending Class AAA Florida state champion Trinity Christian Academy out of Jacksonville on Saturday at Tom Riden Stadium, two of the southeast's most successful programs will clash with more than just personal pride on the line.<br /> <br /> Kickoff is slated for a rare 9 p.m. start and the game will be broadcast live on ESPN2.<br /> <br /> "I'm jacked about this one," said Buford junior tight end Isaac Nauta, who grew up in the Jacksonville area through the seventh grade. "I played against some of those guys. We definitely want to show them the way we play football here in Buford and represent Georgia."<br /> <br /> But it was never really supposed to take place. <br /> <br /> Buford coach Jess Simpson wanted his team to play in the Superdome Classic in Louisiana but they could not work out the financial arrangements. Then he tried to get into the more local Corky Kell Classic but slots had already been taken for that annual showcase. There was talk of a matchup with Hoover (Ala.), but that never gained much traction.<br /> <br /> Then, the phone rang.<br /> <br /> "ESPN was looking to televise a game against two of the best teams they could find and wanted to know if we wanted to play Trinity Christian. Of course I said, 'yes,' " Simpson said. "It's not often you get this kind of an opportunity."<br /> <br /> Neither Simpson, who has led Buford to six of its 10 state championships, nor Trinity Christian coach Verlon Dorminey, with four state titles at Trinity, are strangers to big games. And right on cue, both said it was "game on" and began what some might term "coach speak" -- though in this instance is very much on the money.<br /> <br /> "They got seven of the best players in America on one defense," Simpson said. "Some accounts I've heard from people in Florida is that it's the best defense ever assembled by a high school team in Florida. I've seen film and I've never seen a collection of talent like this on one team.<br /> <br /> "I'm sure our offense will be in a battle all night. I just hope we can have some positive plays. But we will bring our 'A-game' to the field."<br /> <br /> Dorminey was not to be outdone.<br /> <br /> 'Their lines are so big and strong that we don't have anyone that can match up with them," Dorminey said. "That's where the game will be won or lost and we're at a disadvantage. We have a great secondary, but if they're making the tackles it means they're already five or six yards downfield. If that happens, it will be a long night for us. But we're going to do everything we can to try and slow them down."<br /> <br /> The Conquerors will most certainly rely on their "Super 7" seniors. Five have already committed to FBS programs and two others have yet to make a decision but each have received "multiple FBS offers," Dorminey said.<br /> <br /> Cornerback Kevin Toliver, who doubles as the quarterback on offense, is committed to LSU; defensive back Dontai Williams is a Georgia-commit; and Auburn-commit Ben Edwards (safety) anchor perhaps the best secondary in high school football. Victor Alexander, a UCLA-commit, North Carolina-commit Andre Smith, and uncommitted Jeffrey Holland lead the linebackers. Kendrick Norton, who is also uncommitted, bolsters the defensive line.<br /> <br /> Buford will counter with several high-profile players of its own. Senior running back Joshua Thomas (team-high 1,064 yards rushing, 16 TDs in 2013) is amongst the most explosive players in the state, while senior linemen Nick Polino (North Carolina commit), Hunter Holland and Shane Robinson anchor a very talented line. Simpson said Luke Humphrey, who had been battling with Mic Roof, will get the start at quarterback for the season opener.<br /> <br /> Thomas said he has been looking forward to this opener.<br /> <br /> "I like a game like this to start of the season," he said. "We get to start off with a bang and find out just how good we are. I'm excited about it."<br /> <br /> Defensively, the Wolves feature a stout front line led by tackles Quay Picou (Tennessee commit), Polino, Holland and junior Shug Frazier (an FBS recruit). Tyler Shipman, Jordan Perlotte, Caleb Auer and Nauta will all play at defensive end.<br /> <br /> However, neither Simpson nor Dorminey were certain what kind of a game to expect.<br /> <br /> "I think it will be a low-scoring game because both teams have so much talent on defense," Dorminey said. "I just don't know if we're big enough to push them off the line. We're going to need some breaks."<br /> <br /> "It could go either way," Simpson said. "Both teams have playmakers and can hit the big play -- at least we hope we can. I know they can. For us I think a tough, hard-hitting defensive battle is our best chance."<br /> <br /> Nauta, however, said he sees both teams putting up some numbers.<br /> <br /> "I know if we play our style, we'll be able to get some points," Nauta said. "Can we stop them? I hope so, but they can score quick. If both offenses get on a roll, it could be a tough day for the defenses."<br /> <br /> No matter how the game plays out, fans will be fortunate enough to see two of the best teams high school football has to offer, at any level. <br /> <br /> Ain't it great how things find a way to work out.<br /> <br /> <i>(Morgan Lee contributed to this story.)</i>