Posted
6:35PM on Monday 2nd June 2014
( 3 years ago )
NGA Tour returns to Chattahoochee GC
By
Jeff Hart
Sports Reporter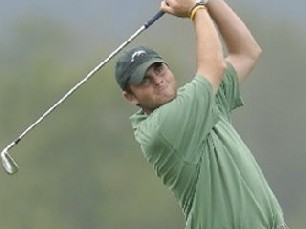 NGA Pro Tour Milton Martin Classic at the Chattahoochee Golf Course
SCHEDULE OF EVENTS
Monday
10:00 a.m. - NGA Tour Practice Rounds
Tuesday
7:30 a.m. - NGA Tour Practice Rounds
Wednesday
7:30 a.m. - NGA Tour Practice Rounds
11:00 a.m. - ProAm Registration & Lunch
1:00 p.m. - ProAm Shotgun Start
6:00 p.m. - ProAm Awards Reception & Dinner

Thursday
7:30 a.m. - First Round of the Milton Martin Honda Classic
Friday
7:30 a.m. - Second Round of the Milton Martin Honda Classic
Saturday
7:30 a.m. - Third Round of the Milton Martin Honda Classic
3:00 p.m. - Junior Clinic
Sunday
7:30 a.m. - Final Round of the Milton Martin Honda Classic
2:30 p.m. - Awards Ceremony and Winners Check Presentation
GAINESVILLE -- The NGA Pro Tour returns to northeast Georgia this week when the Milton Martin Classic tees off beginning Thursday at the Chattahoochee Golf Course.<br /> <br /> Former Auburn alum Dan McCarthy won the rain-shortened 36-hole event in 2013 but he will not be back to defend his title.<br /> <br /> The tournament will begin with a ProAm event on Wednesday at 1 p.m. First round action will get under way Thursday at 7:30 a.m. and continue through Sunday in a regular four-round, medal format.<br /> <br /> Chattahoochee GC has become a tour favorite and this year's event was pushed back to June to accommodate the tour, which had seen the event become plagued by weather issues the last several years.<br /> <br /> "We wanted to move it to a better weather time of the year," NGA Tour Director Todd Barbee said. "The guys like the course so we all got together and found a better time of the year."<br /> <br /> Jay Woodson, former LSU standout Ken Looper, Clemson alum Crawford Reeves, and former Oklahoma State standout Trent Whitekiller should all be considered among the favorites.<br /> <br /> Among local favorites Ryan Chitwood of Lula, Jim Foote, and Chattahoochee Director of Golf Roger Hogan all are entered.<br /> <br /> Former Johnson High and NGA Tour regular Josh Bunch of Gainesville holds the course record along with Roberto Castro at 63. Bunch, however, will not be playing in this year's event.<br /> <br /> The NGA Pro Golf Tour is the No. 3 Men's Professional Golf Tour in the United States after the PGA and Web.com Tours and is the No. 1 recommended developmental tour by more PGA and Web.com Tour Professionals. The NGA has helped hundreds of professionals acquire their PGA TOUR, Euro, Web.com, and Champions Tour cards. In fact, NGA alumni have won 15 "Major" Championships.<br /> <br /> It is free and open to the public.
© Copyright 2017 AccessWDUN.com
All rights reserved. This material may not be published, broadcast, rewritten, or redistributed without permission.